Discussion Starter
•
#1
•
Well, Joel (greensled) came down this past weekend to help yank the motor and remove the govn gear in my sons ZR120. I had already had the govn bypassed, but I wanted to do it the right way to avoid gernading the plastic gear in the case. All in all it went good as neither one of us had taken an engine out of a 120 before. Since the engine was out, it was easy to toss the stock chain tensioner and replace it with the Olsen Brothers chain tensioner. I also decided to install the quick change hub and a new 42 tooth gear replacing the stock gear setup. I also got a 39 tooth gear, but I wanted to try the 42 tooth first before going to the 39 tooth. Since the sled already had the adjustable jet installed, tuning was a breeze. Other than what was mentioned above, the sled has a GripNRip 4 wheel kit out back.
Last winter the the stock gearing, the 4 wheel kit, and the govn bypassed, the sled did 12.2 mph (GPS Verified) on hardpack with about 1" of fresh snow on top of it. Sunday, with the govn gear removed and the 42 gear installed, the sled hit 13.8mph on the GPS. Now, it was about 70 degrees and the kids were riding on the grass with the front wheel kit, but I thought that was good for a 'stocker'. I know the other 39 tooth gear and some more tweaking of the fuel delivery should add about 1 to 2 mph. All and all I think the kids have a solid and dependable 120 to rip around with this winter.
Thanks to greensled for all his expertise with the wrenches and thanks to Dean for his tips.
Here are some pictures and a video:
<object width="320" height="240" ><param name="allowfullscreen" value="true" /><param name="allowscriptaccess" value="always" /><param name="movie" value="http://www.facebook.com/v/1155873938893" /><embed src="http://www.facebook.com/v/1155873938893" type="application/x-shockwave-flash" allowscriptaccess="always" allowfullscreen="true" width="320" height="240"></embed></object>
Getting the 120 ready to be torn apart: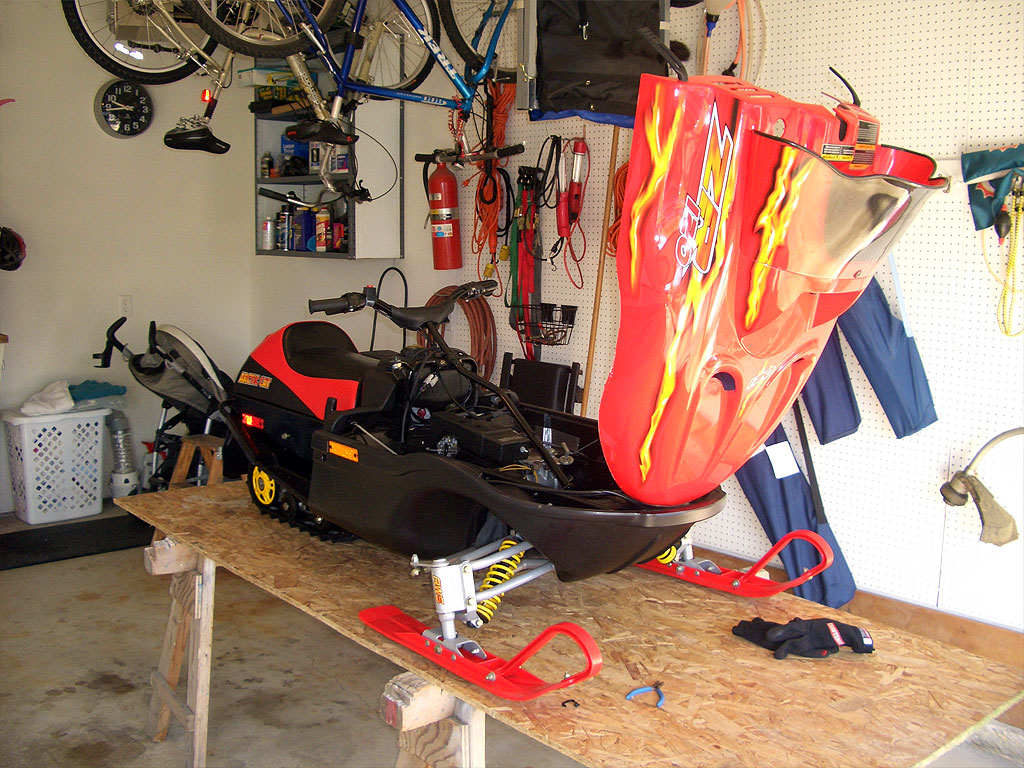 Engine pulled and the engine bay cleaned: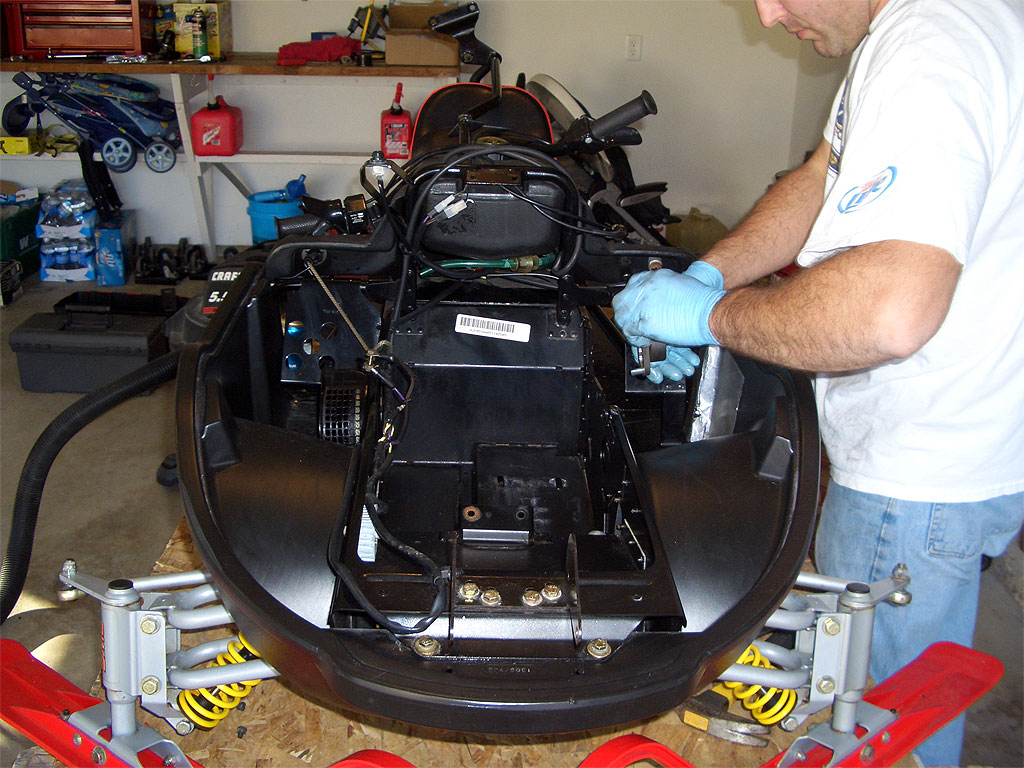 Olsen Brothers Tensioner installed: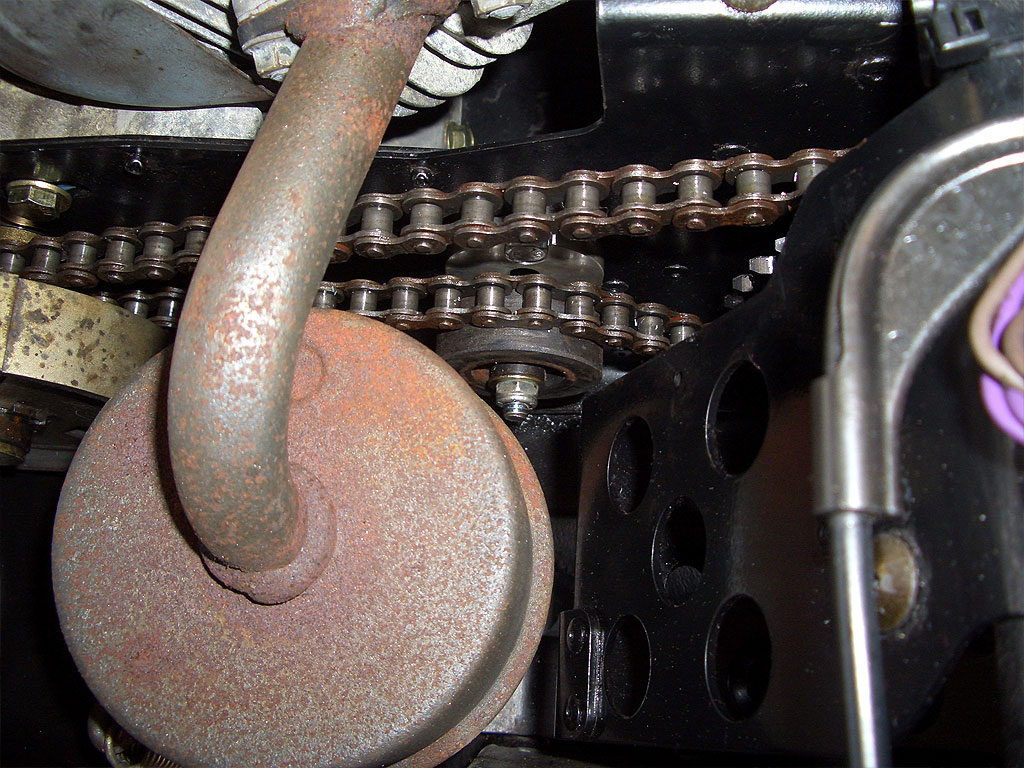 A shot of the 42 tooth gear and quick change hub: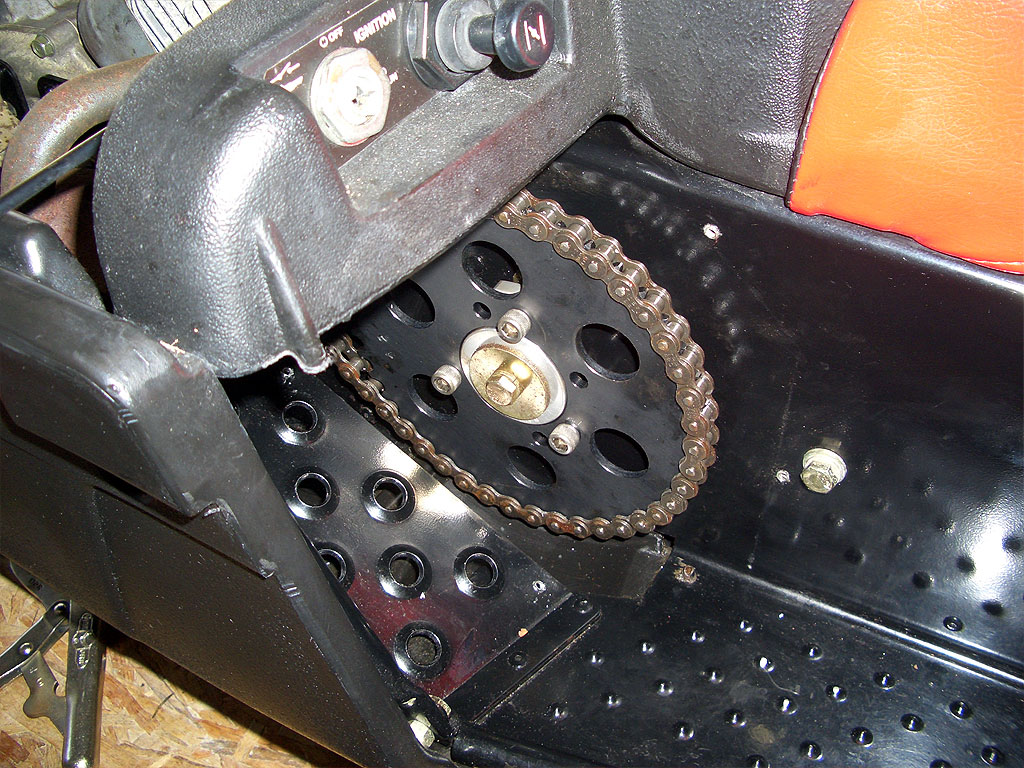 Joel's son Wes ripping around testing out the setup: