Discussion Starter
·
#1
·
PRO ARMOR SWINGARM ARMOR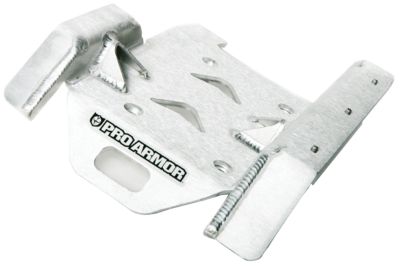 Pro Armor offers the ultimate in swingarm protection for your ATV. Ride as aggressively and as long you want with this swingarm skid plate.
Made a quarter inch thick and with the strongest aluminum on the planet, the Pro Armor swingarm armor is tough and built to last.
Pro armor protects your swingarm, shock mount, rear disc, sprocket and chain from ordinary objects like boulders, rocks and anything else you may want to ride over or through.
Installing in minutes using your existing hardware the Pro Armor swingarm armor is easy and convenient to use.
Pro Armor added a "tow strap slot" to their swingarm armor so you can pull your friends.
Some applications are a 2 piece skid plate.

MotoSport.com Price:
$134.99
PRO ARMOR FULL CHASSIS ARMOR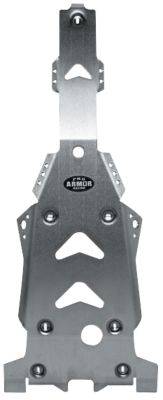 Pro Armor is where you go when you want to step up the protection on your ATV and the Full Chassis Armor ATV skid plates will be there when rocks and debris get in the way of your destination.
The Pro Armor Full Chassis Armor is built out of aluminum that minimized weight gain but adds super tough protection.
Recessed bolt holes make way for the hardened bolts that keep the Full Chassis Armor on your quad and out of the way from damage.
Pro Armor engineered the Full Chassis Armor to fit perfectly on your frame and protect the vulnerable engine case, oil lines and anything else that can be damaged.
Performing maintenance is not hindered with the Full Chassis Armor because Pro Armor included an easy access oil drain hole.
MotoSport.com Price Range:
$89.99 - $134.99
PRO ARMOR A-ARM ARMOR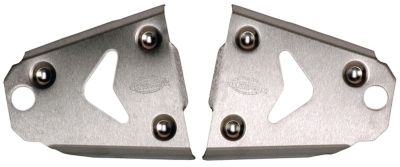 Pro Armor has been building industry leading products for ATVs for years and has earned their reputation for their durability and performance.
Pro Armor designed the A-arm armor to protect your ATV's undercarriage for maximum protection in the most extreme riding conditions.
With superior construction the Pro Armor A-arm armor protects your ATV's suspension to optimize protection.
Durable enough to handle whatever you can throw at it, the Pro Armor A-arm armor is excellent for rocky and desert terrain.
MotoSport.com Price:
$99.99