Discussion Starter
·
#1
·
It's been a long time coming, but I finally finished my AGLT front end, as well as the final touches on the new rear skid. I was able to ride it some today, and like everyone else that has posted their experiences after this mod, the thing is plain awesome. It feels like a completely new sled. In addition to the suspension mods, I also did the steering post mod and added a 3.5" Ole's riser (thanks for the track and riser Scooter). At 6'3" I can comfortably stand and ride now, which is something I still need to get used to. Oh yes, in the pics you will see that the throttle block is turned 180 degrees. That lasted about 750 ft. before it got ugly, and it got ugly quick. What happened was, as I drove through a small ditch to get into a field I lost my balance just a bit, falling backward. Well as you can imagine with the throttle on the opposite side of the bars with me falling just slightly back it meant instant full throttle and I got thrown off the sled. I saw it tip on one side but it ended up back upright somehow, don't know if it rolled or not but everything on the sled was fine. I also broke a swaybar arm, so after that it would really roll in the turns, but the thing soaks up every bump that I hit. One the rear skid I added some fat boy springs and a rear arm clicker shock out of an '02 ZR 800 CCE. Here are some pics of the before and after.
Before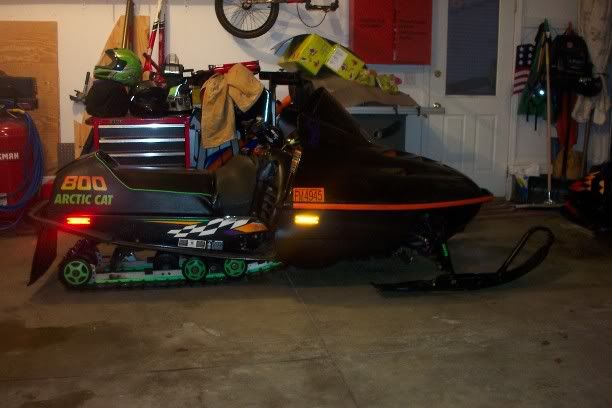 Another before
After
After front
Here are some pics of the steering post/Ole's riser mod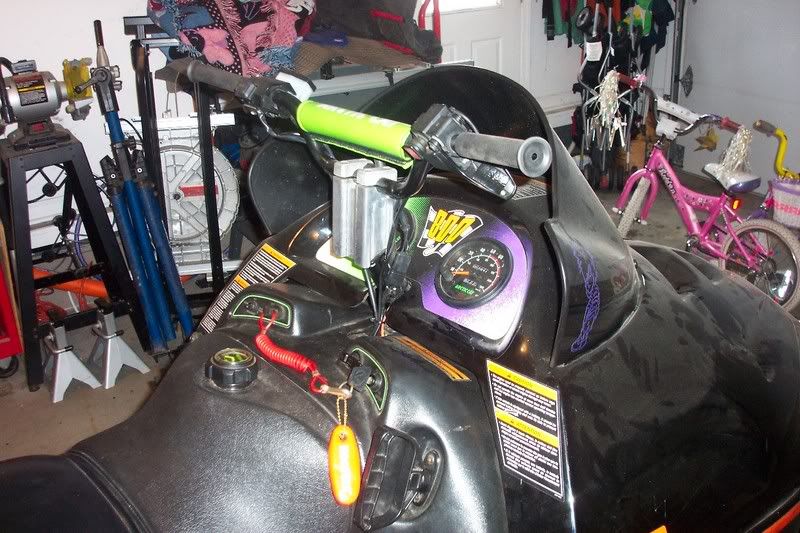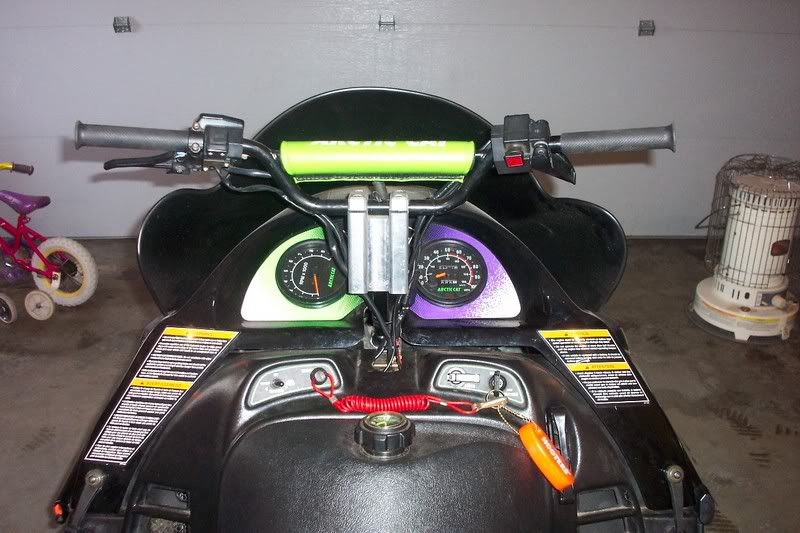 As everyone else that has done these mods, I too would strongly suggest these to anybody with an AWS 4 sled. A year ago I wanted to put the old girl to rest for good, but now I wouldn't trade my sled for anything. In fact I would love to find a '94 or '95 ZR 700 to do the exact same mods, as my wife loved her Wildcat, and I can only imagine how much she would love that motor attached to a killer riding suspension!
I want to thank everyone that helped me along the way. AG obviously for coming up with the idea as well as answering my questions. KevinS for the swaybar and a very good post with all the pics. Also thanks to Scooter for the track and riser deal....and I still think that retro ZRT of yours is the best looking I have seen, so good that as bad as I want to do it to mine I won't....that deserves to be a one of a kind thing, even though it isn't.