Thought you guys might find this interesting, I just had my bike apart for it's first real check over since I replaced the engine in August of 08.
Current total mileage is 7062.
Parts replaced before today:
3 Guage clusters(I have rolled it a few times... LOL)
Engine, at around the 800 mile mark, due to a bevel gear failure/vandalism.
Dynojet kit installed as well, carb needle was bent due to having ingested steel of some sort, that was the vandalism that took the lining on the factory engine's cylinder with it.
1 set of Primary clutch rollers, melted the covers off of them with snow in the clutches...
2 Fixed drive plates for the primary clutch... Blue loctite doesn't work, learned my lesson but risked it the second time to get out for a ride, and it bit me.
Air filter, with a K&N, factory one was lost getting the bike back to the truck after the first rollover, it was a block of ice, and we were 4 miles up a lake on ice when it ended up upside down in 2 feet of water.
2x Throttle cable, 1 due to the incident above, the second due to a similar incident that ended up with moisture in the cable and it freezing up again.
Tires, at 86 miles, stock sucked, and I put a rock clean in and out of the sidewall on the RF tire. It has been on 28" Mud Bugs ever since.
Axles, sheared 2 shafts and was able to replace just the shaft, 2 boots with those shafts. I also broke 2 CV joints, and one I bought a halfshaft, the other I built a shaft out of broken ones out of my buddy's '10 Mudpro.
Fan switch. fan came on under water and cooked the switch once, didn't hurt the diode or fuse.
Shock bushings, 2 times. I let it go a very long time with them worn.
Winch cable, with Synthetic rope. Didn't fail, was preference.
1 brake rotor, bent it replacing an axle... Long story... lol
Parts replaced Today:
Primary clutch shaft seal/update kit. It was starting to weep, so it got done.
Primary clutch inner Sheave. Splines were worn out: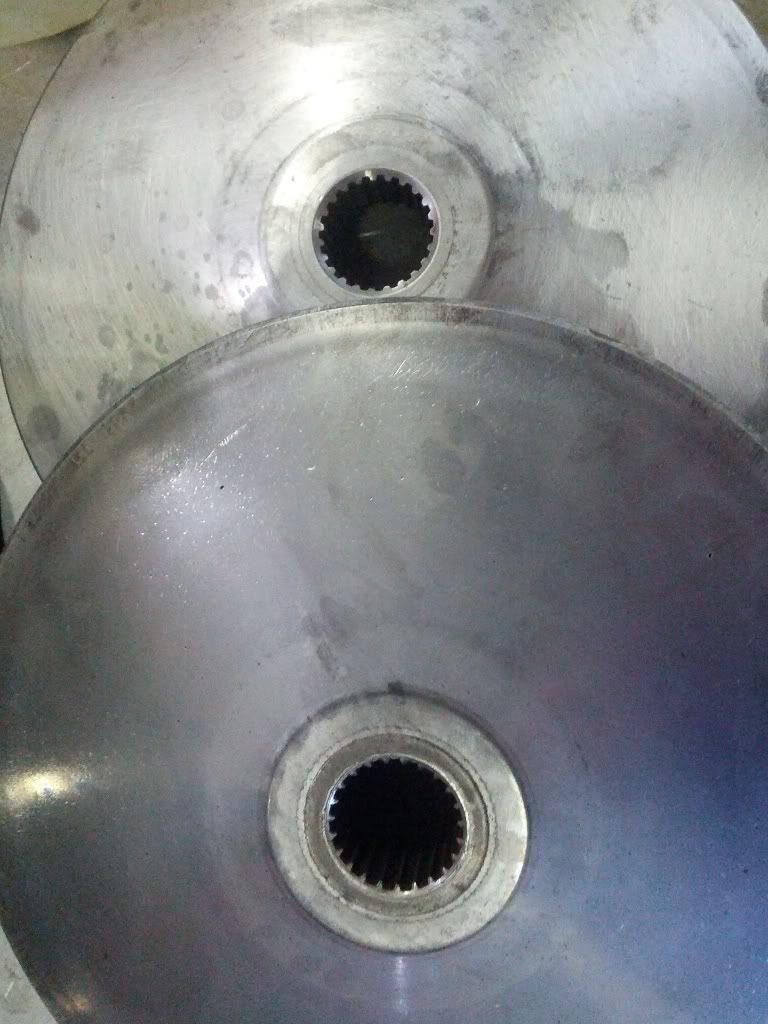 Belt, I had put the one from the factory engine on this one when I installed it. I swapped it out soley because I had it apart.
I was quite amazed at how little wear there was on the belt. I have only ever had belt slippage issues twice, once in the incident that killed the clutch rollers, and I got water in there one other time.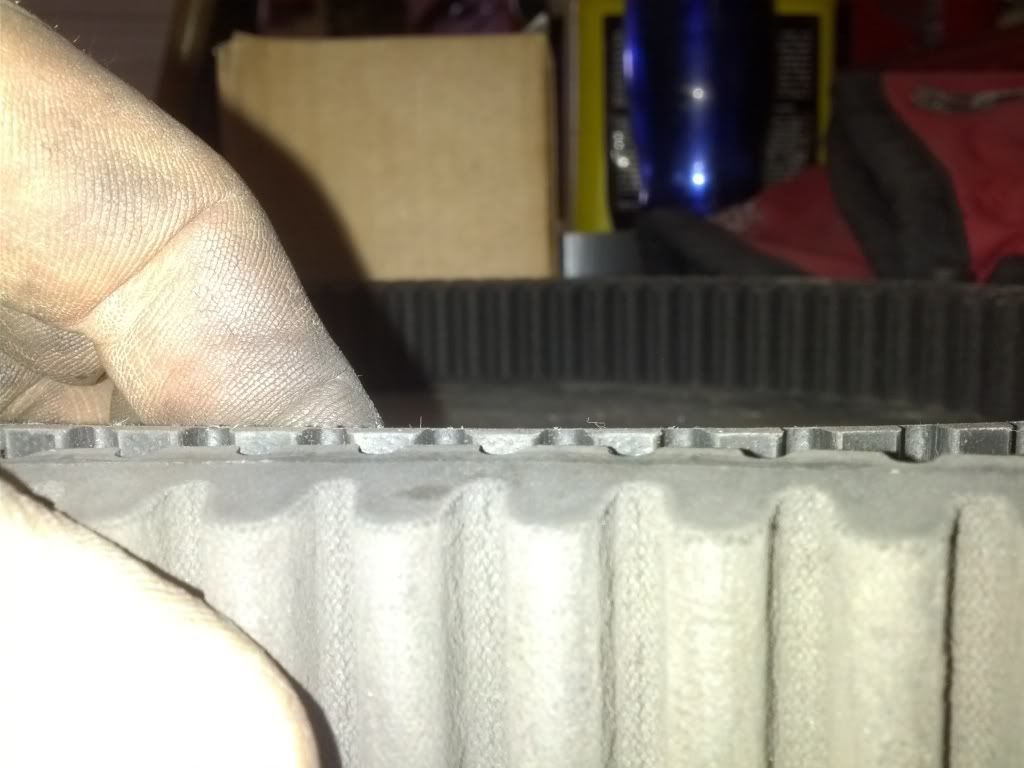 New vs old.
I had run all factory clutching until today. I pulled 46 grams of weight out of the primary to get the rpm up to 6500 per cat's clutching guide, it would pull about 5300, then as the secondary shifted up pull down to 5100 or so and labour.
I also clocked the secondary to B4, it seems to be a much happier bike, but I have no real traction to tell, will see when I get it into the mud. It went from needing a bump and some body english to wheelie to pulling the fronts 8-10 inches off the ground and carrying them 2-3 feet just by pinning it from a stop in high with me sitting down, and wheelieing on flat ground is a light tug on the bars away. I only had a 50 foot stretch of bare pavement to work with, but I am quite impressed.
Also, I was quite impressed with the condition of the secondary clutch, It does have some wear, but, I have seen 500 mile old sled clutches that had more bushing play.
What still needs attention:
Electric choke has not worked since the bike was approx 2 years old. I can use the primer many times for the cost of a new choke assy. I considered my warranty Null and Void at that point due to having replaced my engine myself.
I tore the side gears out of the front diff in September. So, it is currently left wheel drive only in diff lock, and it has JB weld holding oil in the diff.
Brake light switch on the bars is torn apart.
Foot brake master cyl is shot due to never being used. has been for at least 4 years. Not going to fix it.
Seat is toast.
Front plastic is missing mounting tabs for RH headlight, smacked a tree and knocked the headlight out, and ran over it. Probably won't get fixed, it adds character.
Brakes, the factory set of pads is down to about 10%
I want to re-bush the shocks and a-arms with RTR's parts.
Balljoints are a little loose
Things I strangely have never had issues with:
Wheel bearings, all still factory and in good shape.
Front diff actuator, have not had one single issue ever.
I have never really ridden this bike easy, and it shows.
When it was 3 weeks old: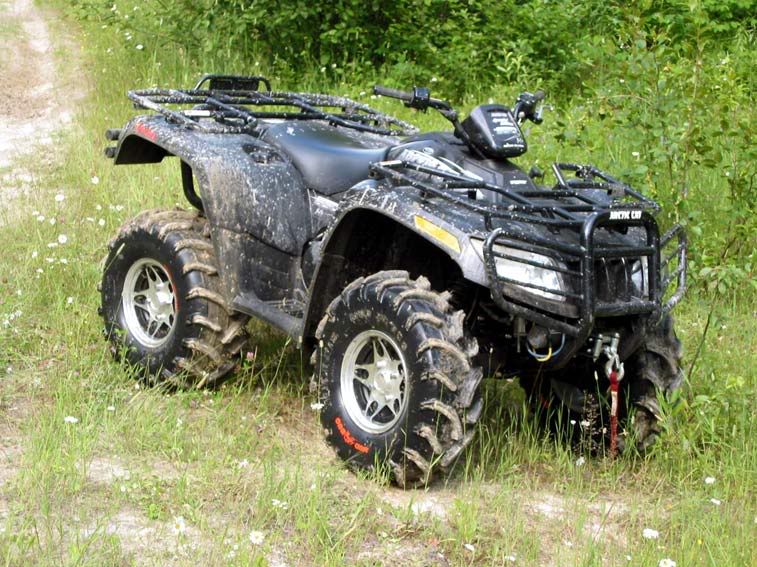 Today:
It has been in the parking lot at it's selling dealer once since I bought it. It has never had any work done to it by anyone but myself.
All in all, I am quite amazed at how reliable and problem free it has been, especially considering many of my friends also have owned/own Cats, and I now work at a dealer. Everyone always gives me crap about my ugly old bike that "never starts" as it always needs a prime first start of the day, but at the end of the day, it always makes it back to the truck under it's own power, and sights like this aren't uncommon:
With my luck, now that I have said that it will explode tomorrow... LOL