Discussion Starter
·
#1
·
I've listed them in decreasing order, and included the KW to HP conversions. I've only listed the flagship models (and most popular) from most manufacturers.
All HP ratings are based on EPA/CARB guidelines.
Subject Top Page: Off-Road Motorcycles, All-Terrain Vehicles, Off-Road Utility Vehicles, Off-Road Sport Vehicles, Sand Cars, and Electric (Zero-Emission) Golf Carts Executive Orders - 2013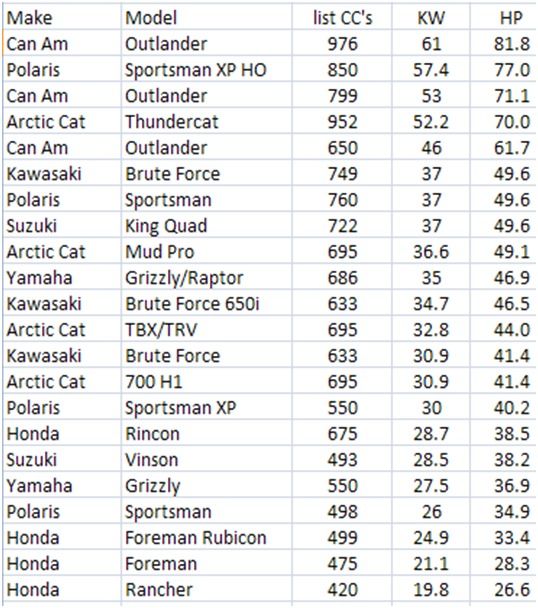 Things to give a more complete reality:
- curb weights
- drive train efficiency
- RWHP


Things that are interesting:
- The Polaris HO added almost 10% more HP from the previous year (usually the case with their high output models).
- The top 2 contenders for HP (Can-Am 1000XT and the Sportsman XP HO) are 125cc's apart, but only about 5 HP apart. Makes me wonder if the XP is tapped out or the Can-Am is detuned...
- The single cylinder Suzuki King Quad is comparable to twins of the same or more CC's.
- Arctic Cat detunes their standard 700 H1's compared to the TBX and Mud Pro editions.
- The Sportsman 550 is leading the mid-size class (400-600), but not by much. Incidentally, the Sportsman 500 (based off a 20 year old Fiji engine) is still holding it's ground. *note, the can-am 500 actually beats out the 550 XP.*

Things that aren't interesting:
- Honda's are bringing up the rear.



I thought you guys would find this interesting. I have an excel spreadsheet for this current year, I'll make an attempt to upload it if you want to sort by measures other than HP. You can check my math and critique where needed.

Spreadsheet - 2013_EP_HP_Ratings_ATV.xlsx - download now for free. File sharing. Software file sharing. Free file hosting. File upload. FileFactory.com